nescient it services
managing information technology for you
Data Security
nescient it services
Data Security - Malware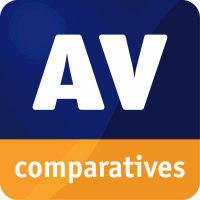 The traditional computer virus "ain't what it used to be". Over the last decade, an ominous change has swept across the Internet. The tools driving these new attacks, and fueling the black-market, are crimeware - bots, Trojan horses, spyware etc.
It is important that all computer users implement an effective malicious software (malware) strategy based upon the right tools for the job. This strategy is built around the reduction and prevention of threats; the earliest possible detection of any threat and, should a threat enter your office, recovery and a return to normal usage as quickly as possible. There is a steady growth in the incidence of malicious programs with the frequency of crimeware problems growing fastest.
A good place to start when choosing a malware solution is to visit AV-Comparatives - that's what we do. Click the AV Comparatives Logo (above-right) to see a recent report. Here's what they have to say for themselves:
AV-Comparatives is an independent organization offering systematic testing that checks whether security software, such as PC/Mac-based antivirus products and mobile security solutions, lives up to its promises. Using one of the largest sample collections worldwide, it creates a real-world environment for truly accurate testing. AV-Comparatives offers freely accessible results to individuals, news organizations and scientific institutions. Certification by AV-Comparatives provides an official seal of approval for software performance which is globally recognized.
We can help you to protect your computer investment from becoming one of the statistics. We have wide experience of protecting various companies and organisations from malware attack.
Data Security - Firewalls
With high-speed direct connections to the Internet being the standard for small business' connectivity, exposure to outside hacker attacks has become a very serious issue. nescient it services can provide your individual PC or your network with a managed firewall, opening up only the parts of your network or PC that need to be available to outside-office requests. Your systems need to be as safe as possible from harms way.
Data Security - Backups
One very important aspect of small business systems today is a fully functional backup and "disaster recovery plan". Often overlooked until it's too late, a scheduled backup of your company's, and your own vital data is an absolute necessity. nescient it services will help provide you with such a solution.
If you need to protect your company's data we will determine the best-suited business continuity approach for your organisation, and implement the system based on your individual needs. Best of all, we'll be there to help restore your data should your systems fail.
Data Security - Business Continuity
Business Continuity is the provision of a minimum level of service to clients and customers, regardless of any events or incidents that may occur. You need to ensure that you can help your business to recover should an unexpected incident happen.
All unexpected incidents or threats to an organisation have an associated level of likelihood and impact. For example, an earthquake in East Sussex would have a large impact on a business's ability to operate, but an incredibly low likelihood of occurring. A PC Virus infection may have a large impact and definitely will have a large probability of occurring (without adequate protection). At the other extreme, in a large office, light bulbs will blow very frequently but the impact to the organisation is inconsequential and easily resolved. There are some things that are more important to be concerned about than others. nescient it services have the skills to audit your company, assess your needs and prepare a Business Continuity Plan with you.
Our definition of Business Continuity Management is "a proactive process identifying an organisation's key functions and the likely threats facing those functions so that a plan can be prepared to ensure continuity of service whatever the circumstances".
The keyword in this definition is 'proactive', i.e. act now before experiencing a real interruption to service delivery. Whilst some organisations continue to believe that Business Continuity Management is just about protecting IT capability, nescient it services' definition clearly implies the process is a corporate issue and as such all aspects of an organisation must be considered. The over-riding aim of Business Continuity Planning is to achieve a cost effective solution that balances the value of the organisation and its assets against the cost of guaranteeing continuity of critical business processes or activities.
Top